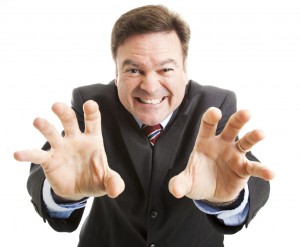 One day at work, Jeffrey Smith saw another employee, Jim Leonard, come up behind a co-worker, grab the co-worker in the rear end, then sniff his finger. A few days later, Jim came by Jeff's workstation and slapped him on the buttocks as he went by. Jeff told Jim to keep his hands to himself, and thought everything would be OK after that. But, about a week later, Jim came up behind Jeff and grabbed his butt hard enough to cause pain. This time, Jeff grabbed Jim by the arm and demanded that he never touch him again. Jeff did not report either incident, because his company's harassment policy said that he had to tell Jim to stop before bringing his complaint to management.
But Jim did not stop. About a month after the second incident, Jim again came up behind Jeff when he was bending over to pick something up, grabbed Jeff by the hips and began thrusting his pelvis against Jeff's rear end. Jeff then grabbed Jim by the throat and lifted him off the ground. Jeff was so visibly upset that the team lead sent him home.
On Monday, Jeff told his supervisor about incident, but the supervisor replied that nothing could be done until the operations manager returned from vacation the following Friday, and sent Jeff back to work in the same area as Jim. Jeff was very distressed, worrying that Jim would assault him again, and after having a panic attack when someone came up behind him in the checkout aisle of a supermarket, Jeff went out on sick leave, started therapy, and began taking anti-anxiety medication. Jeff never came back to work.
Management then began an investigation, after which the general manager suspended Jim with pay for two days, even though Jim was on final written warning for touching another coworker on the backside while the coworker was using the urinal. Jeff sued for sexual harassment, and the company defended itself by saying Jim's behavior was mere "horseplay" and that it had promptly and properly responded to Jeff's complaint.
A federal appeals court disagreed, and affirmed a jury verdict of $300,000 in favor of Jeff. The trial judge awarded Jeff more than $100,000 in attorneys' fees, and now will consider Jeff's application for appellate attorneys' fees.
What did the employer do wrong? Let's make a list:
1. Having a harassment prevention policy that did not make it clear that workers can always complain directly to HR or management.
2. Tolerating physical aggression and unwanted touching on the job. As the appeals court said: "
[T]he jury apparently found that pinching and slapping someone on the buttocks or grinding one's pelvis into another's behind goes far beyond horseplay."
3. Neglecting to take prompt corrective action. The employer did not separate the two men, suspend Jim pending an investigation, or start its workplace investigation for nearly two weeks.
4. Violating its own policies. The investigators did not bother to prepare the required written report, but made just a page of barely legible notes.
5. Failing to communicate. Jeff's supervisor and the operations manager never told the general manager, who imposed Jim's two-day suspension, about the bathroom incident or that Jim had been warned that future complaints of sexual harassment would result in termination.
Smith v. Rock-Tenn Services, (6th Cir., Feb. 10, 2016)
What this means to you:
Managers are responsible for creating a respectful workplace, where employees feel safe. Our instructor-led Harassment Prevention Training –in the classroom or online—gives your managers the practical information and tools they need to maintain a respect-filled workplace for all. To find out more about our national HR training programs or to book a workshop, please call us at 800-458-2778, or email us at training@fairmeasures.com.
Posted 03-08-2016
Information here is correct at the time it is posted. Case decisions cited here may be reversed. Please do not rely on this information without consulting an attorney first.