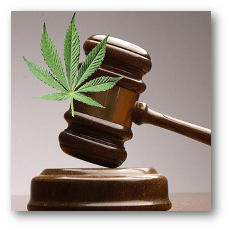 Conventional wisdom in the employment law arena has been that federal laws criminalizing the use of marijuana protect employers who refuse to hire or decide to terminate medical marijuana patients, from discrimination and wrongful action lawsuits. That may no longer hold true. 29 States now legalize the use of medical marijuana when prescribed by a physician. And, for the first time, a court has decided that federal laws do not preempt a state's medical marijuana discrimination law.
Connecticut's Palliative Use of Marijuana Act (PUMA) protects employees and job applicants from employment discrimination based on medical marijuana use permitted under state law.  Ms. Noffsinger was recruited to work for Defendant in 2016. She notified her potential employer that she was a medical marijuana patient registered with Connecticut and was taking Marinol, a synthetic form of marijuana. Her preemployment drug test came back positive for marijuana and the employer rescinded the job offer on the day before employment started. The federal judge hearing the case addressed the three Federal laws most commonly associated with the preemption argument, the Controlled Substances Act, the ADA, and the FDCA. He found that, with respect to the CSA and FDCA, although marijuana was prohibited under both laws, neither statute was directed specifically at employment or decisions regarding employment. As for the ADA, which specifically allows employers to prohibit illegal drug use in the workplace, the judge held that it does not speak to off-duty drug use. In doing so, the judge specifically rejected the universal argument that an employer may require a negative drug test result as a precondition for employment. Noffsinger v. SSC Niantic Operating Company LLC, d/b/a Bride Brook Nursing & Rehabilitation Center, No. 3:16-cv-01938 (D.Conn. August 8, 2017).
In a related case this summer, the Massachusetts Supreme Judicial Court also determined that an employer has obligations to accommodate lawful medical marijuana users under Massachusetts' disability discrimination laws. Barbuto v. Advantage Sales & Marketing, LLC, SJC-12226 (MA July 17, 2017). However, in that case, the court did not address federal preemption, finding that the employer had waived those arguments by not making them in the courts below.
It has been many years since the United States Supreme Court held that growers and users in medical marijuana states can be prosecuted under federal laws. United States v. Oakland Cannabis Buyers Co-Op, 532 U.S. 483 (2001) (growers can be prosecuted); Gonzales v. Raich, 545 U.S. 1 (2005) (users can be prosecuted). And, it has been seven years since Oregon's Supreme Court held that federal laws do preempt medical marijuana laws in the workplace. Emerald Steel Fabricators, Inc. v. Bureau of Labor and Industries, 348 OR 159 (2010). 
It seems that the times, they may be "a-changin."
What this means to you: It is never a wise decision to rely on conventional wisdom. Managers cannot always rely on how things "have always been done." Issues regarding medical marijuana use almost always will come up in the context of disability/medical condition and reasonable accommodation matters, whether for applicants or employees. Such decisions must involve partnering with HR and upper management, who have the most up-to-date knowledge about the laws in your particular state, being knowledgeable about current discrimination, harassment and retaliation laws and cases, and focusing on enhancing productivity in a Respectful Workplace.
Help your employer meet its requirements under the law and FEHA regulations by contacting us today at 800-458-2778 and booking Managing Within the Law training for your supervisors and managers.
Posted 10-10-2017
Information here is correct at the time it is posted. Case decisions cited here may be reversed. Please do not rely on this information without consulting an attorney first.