A nationwide class action filed in federal court in California charges that hundreds of employers around the country, including T-Mobile, Amazon.com, Cox Communications, Inc., Weichert Realtors, and Verizon, as well as employment agencies, routinely exclude older workers from seeing their employment and recruiting ads on Facebook. The suit, Communications Workers of America v. T-Mobile, 17-cv-7232 (N.D. Ca. Dec. 20, 2017) claims that these companies intentionally prevent older workers from receiving job ads by specifically targeting their employment ads to younger workers via Facebook's ad platform.
From the allegations of the complaint, it appears that Facebook itself provided the evidence relied on by the class action plaintiffs. The complaint and its appendix contain dozens of screen shots of Facebook ads, accompanied by the explanation given when the user clicked the "Why am I seeing this ad?" button on the ad. Here's one: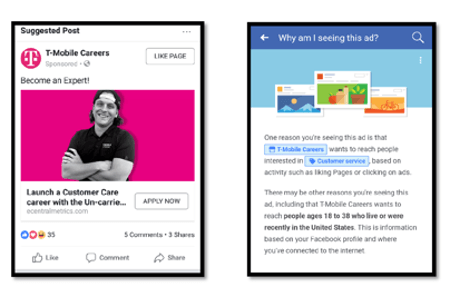 The screenshot to the right allegedly shows that T-Mobile sent the job ad because T-Mobile "wants to reach people ages 18 to 38 who live or were recently in the United States."
The lawsuit was filed on the same day that a joint investigative report on the subject was released by the New York Times and ProPublica, the independent, nonprofit investigative journalism organization. The report noted that Facebook is not alone in providing these types of ad targeting options: "ProPublica bought job ads on Google and LinkedIn that excluded audiences older than 40 — and the ads were instantly approved. Google said it does not prevent advertisers from displaying ads based on the user's age. After being contacted by ProPublica, LinkedIn changed its system to prevent such targeting in employment ads."
This is not the first time that Facebook ads have generated employment law controversy. After an October, 2016 report by ProPublica criticized the social media giant for allowing advertisers to deliberately block ads from going to people with what it called "ethnic affinities", such as Hispanics, Asian-Americans, and African Americans, Facebook changed its policy in November, 2016, and now bars advertisers for housing, employment, and credit opportunities from targeting or excluding those groups.
But this time, Facebook has resisted calls to change its policy allowing age-limited job ads. In a statement, Facebook said "These individual ads are part of broader-based recruitment efforts designed to reach all ages and backgrounds." While acknowledging noting that federal law forbids age discrimination in employment, the Facebook statement argued that "simply showing certain job ads to different age groups on services like Facebook or Google may not in itself be discriminatory — just as it can be OK to run employment ads in magazines and on TV shows targeted at younger or older people."
The 2017 New York Times/ProPublica report takes issue with that argument: "Several companies argued that targeted recruiting on Facebook was comparable to advertising opportunities in publications like the AARP magazine or Teen Vogue, which are aimed at particular age groups. But this obscures an important distinction. Anyone can buy Teen Vogue and see an ad. Online, however, people outside the targeted age groups can be excluded in ways they will never learn about."
What this means to you: Every employer wants to find the best employees. Hiring the right candidates can put your company ahead of the competition and reduce the high cost of turnover. In order to be successful, managers must develop staffing strategies that will support them in selecting top talent and avoid the wrong candidates. But, it is equally important that employers provide true equal employment opportunity to all potential applicants, no matter what their age, ethnicity, or other protected characteristics.
Executives, managers, supervisors, and leads who participate in the interviewing and hiring process should be trained on effective (and legal!) interviewing and selecting qualified job applicants. Fair Measures' Hiring the Best program includes your organization's policies and procedures, small group discussion, case studies and extensive Q & A. When it comes to behavior interviewing and interviewing technique tips, our instructors are seasoned attorneys, experienced trainers, and skilled facilitators who use personal stories and appropriate humor to make this topic come alive! To find out more about our training programs or to book a workshop, please call 800-458-2778 or email training@fairmeasures.com.
Posted 01-09-2018
Information here is correct at the time it is posted. Case decisions cited here may be reversed. Please do not rely on this information without consulting an attorney first.