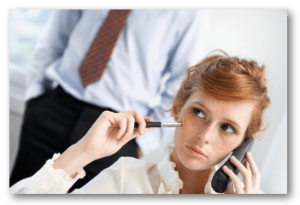 More than 30 years ago, a unanimous U.S. Supreme Court ruled that harassment that is "sufficiently severe or pervasive" to create a hostile or abusive work environment violates the law. Meritor Savings Bank FSB v. Vinson, 477 U.S. 57 (1986). The "severe or pervasive" standard has been followed by both state and federal courts since then.
But in the wake of #MeToo, both California and New York have moved away from "severe or pervasive" and now allow hostile environment harassment claims based on less-grievous conduct.
The California Legislature has expressly rejected the "severe or pervasive" requirement. As of January 1, 2019, an employee need only prove that "a reasonable person subjected to the discriminatory conduct would find…that the harassment so altered working conditions as to make it more difficult to do the job." This standard was taken directly from a concurring opinion by Justice Ruth Bader Ginsburg in Harris v. Forklift Systems, 510 U.S. 17, 26 (1993)
Further, a single incident of harassing conduct may now be sufficient under California law. If that conduct has unreasonably interfered with the employee's work performance or created an intimidating, hostile, or offensive working environment, the employee may pursue a valid harassment claim.
But New York State has gone even further. On August 12, 2019, Governor Andrew Cuomo signed legislation that abolishes the "severe or pervasive" standard and replaces it with "inferior terms, conditions or privileges of employment" because of the worker's age, race, gender, disability, or other protected characteristic. Notably, the new law, which goes into effect on October 11, 2019, allows an employer to avoid liability only if it can prove that "the harassing conduct does not rise above the level of what a reasonable victim of discrimination with the same protected characteristic would consider petty slights or trivial inconveniences."
And, in both the Empire State and the Golden State, employers can be liable for harassment even if the employee did not use the company complaint procedure. In other words, the first time an employer learns about a harassment problem may be when a process server arrives at headquarters.
What this means to you:
Since these new laws mean that more workers can have viable harassment claims, employers must do more to prevent harassment. It will be challenging for organizations to define conduct that is a "petty slight" or "trivial inconvenience".
Thus, effective training becomes even more important for supervisors and managers, who must be the front line of defense against harassment. Only proactive managers and supervisors will be able to create and maintain the respectful workplace needed to your organization out of court.
At Fair Measures, we specialize in creating respectful workplaces for businesses by training executives, managers and employees about how to create shared organizational culture based on values, policies, and laws. We feature bystander training in all of our anti-harassment courses. Call us today at 800-458-2778 or email training@fairmeasures.com to find out more or to book a workshop.
Posted 08-20-2019
Information here is correct at the time it is posted. Case decisions cited here may be reversed. Please do not rely on this information without consulting an attorney first.